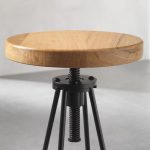 Available colors
Essences
Information and Reseller
Do you like this product? Come see it. Contact us for any information.

Modern and Harmonious, an impression of lightness emphasised by its extremely versatile mood.
These Modern Chairs adapt to a variety of settings and the various offered.
A line of Superior Design and basic elegance.
Techincals details
Struttura e seduta: metallo nero opaco liscio
Seduta: Massello rovere naturale sp. 3,5 cm
Altezza Struttura: cm 61,5 corsa vitone cm 13
Larghezza alla base: cm 46
Download
Download the full listing for all available variants, details and technical information.

Benedetti Sedie – Rodolfosg