Tables for space sharing.
At the centre of daily life, divided between work time and heart time, is the Table, giving us respite, time for thought and moments of togetherness.
Designer Creations and Tables of well-defined character are born from the continuous dialogue between function and beauty, between contemporary and tradition and between form and substance, representing the hallmark of Benedetti craftsmanship.
Crete your Table
Benedetti explores the numerous possibilities of Made to Measure. The many colour and finish variants, the company's strong point, allow different furnishing elements to be created and the best Table for any home setting to be chosen.
Special finishes such as lacquered, gloss, chalk, decapé, shellac and matt, have helped to enrich the catalogue over time and reflect the creative heart of the company.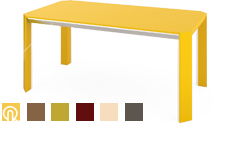 You can create Your Own Table and discover the beauty of our Designs using the online Configurator.
Submit Newsletter
Follow the News